Douglas State Forest Backpacking Trip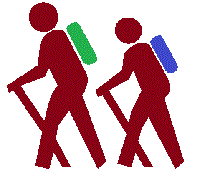 Saturday, June 19 -
Sunday, June 20, 2021
Douglas State Forest
Douglas, Massachusetts
Event Description
This month, we will backpack on a section of the Midstate Trail in Douglas State Forest, ending at a trail shelter. We last hiked this segment in August 2016, so none of our current youth members has hiked it before. This end of the trail has little elevation gain and few rocks, making it a fairly easy hike.
Weather permitting, and depending on whether it is open, we will stop by the beach area at Wallum Lake for a swim on the return hike.
This trip is open to Scouts BSA members. Participants should weigh at least 90 pounds or bring a parent to carry some of their stuff.
COVID-19
Troop 54 COVID-19 Controls will be employed on this trip.
Registration
Packing
Use our Backwoods Camping List to ensure you pack the needed items and see our Personal Camping Gear page for descriptions of most of the items needed and for how to use the checklist. You will pack your stuff in either an external frame or internal frame backpack (the big kind). Specific items to bring:
Water bottles (2)
Full uniform (as for just about any event) - wear this.
Day pack
Swim suit and small towel if you plan to go swimming.
Food - Each patrol should plan to provide 1 breakfast, 1 lunch and 1 dinner. Participants bring your own drinks and food for snacks.
Cloth face masks (at least 3 per person). Please ensure that masks are sized so that they will stay in place.
Scouts are required to bring their packed backpacks (excepting food) to the meeting for inspection on Tuesday, June 15. For this, water bottles can be empty.
Travel
We will meet at the Epworth United Methodist Church parking lot (for the first time since the pandemic started) at 8:00 AM where we will perform a final gear check and load the packs into the vehicles going to the trailhead. Most likely, only the participating adults will need to drive there.
Travel to the trailhead is approximately 25 minutes from Epworth United Methodist Church.
Scouts should be picked up at the church at approximately 2:30 PM on Sunday. We will call family members as our timing becomes more clear.
Page updated 5/25/21
J. Froimson