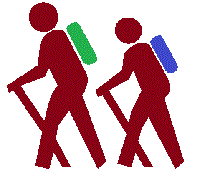 This month's trip was a backpacking trip that took us back to Douglas State Forest for our first time since November 2019; our last time hiking the Midstate Trail all the way to the shelter was in August 2016. We had 6 Scouts and 5 adults participating on this trip.
Having taken some time at the church to go through everyone's gear, we finally hit the trail at about 10 AM. On the hike in, we plodded along at a slow, steady pace. After our lunch stop, one of us ran out of water, so we stopped to pump filter some fairly thick water with an MSR ceramic unit, followed with chlorine treatment.
Then, we detoured from the Midstate Trail to the Coffee House Loop to get to the beak park at Wallum Lake. We stayed well over two hours, during which the Scouts went swimming and built a sand castle. This was also a great place to fill up with some nice, clear water. After a relatively short hike from the lake, we arrived at the trail shelter after 6 PM, having hiked about 5.8 miles.
From the shelter, our nearest water was a barely running stream about half a mile away. On Saturday, we put about 4 gallons through a screen and sanitized it with chlorine drops. Just before leaving on Sunday, we filled up with water for the hike back, with most of the water pump filtered using a Katadyn unit and some sanitized with UV light using a Steripen. Regardless of the treatment, all of the water tasted fine, but it was almost tea colored and had a bit of a chalky feel.
The weather was pretty good. The temperatures were in the 70's and 80's during the day. From Saturday evening until almost morning, we had a light rain, but it was warm enough that a little moisture was not a problem.
The only other occupants at the shelter were a couple, one of whom was a former Boy Scout.
Mr. Mart baked a home made macaroni and cheese for dinner in a Dutch oven and followed up with some cookies from scratch. With breakfast, Mr. Froimson "baked" some blueberry muffins in a pot over a stove. The Scouts made a freeze-dried meal for dinner. Mr. MacNeal made meals using a couple of freeze-dried kits, including an omelet boiled in a zipper bag.
As usual, our speed hiking out was much faster than hiking in, and our distance out was about 4.6 miles. The promise of home always seems to motivate people. See our actual trail as recorded by Joshua Froimson:
My Maps - map uploaded into Google My Maps
GPS Visualizer
GPX file (for downloading)
This was our one hundred fiftieth consecutive month with at least one overnight camping trip.