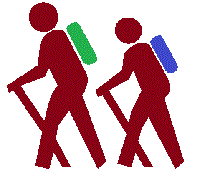 Troop 54 returned to Douglas State Forest, which we last visited in August 2016. We mostly hiked the Southern New England Trunkline Trail and then a short portion of the Midstate Trail. This was our first time hiking a significant length of the SNETT, a converted rail bed that connects to the Airline Trail at the park border.
Due to an illness, This was our smallest trip contingent ever. We had one Scout and two leaders participating.
The trail was probably the easiest we have hiked. Another distinction - this was the only backpacking trip we have taken with no packs off breaks in either direction. In fact, the only break at all was a short pause to find a geocache the first day. The portion of the SNETT we hiked was the flattest trail we have ever hiked. Unlike the Airline trail, it crossed roads almost exactly at grade.
One odd sight - a man riding a wheeled sled pulled by dogs.
Our hike to the shelter was about 6.2 miles, and our hike out was about 6.0 miles. This was our fastest trail speed with moving averages over 3 miles per hour and overall averages over two miles per hour. See our actual trail as recorded by Joshua Froimson:
My Maps - map uploaded into Google My Maps
GPS Visualizer
GPX file
As a result of recent rain, we were able to get our water from a small stream running just to the side of the trail a bit past the shelter. One 5 gallon container was more than enough for our time at the shelter.
After reaching the shelter, we hiked the half mile to Wallum Lake. That trail is not marked or well-traveled, so it was a bit hard to follow. Using the lake as a water source would have to require some desperation.
It was a bit cool, with temperatures dropping overnight to about 24°F, but we didn't get rain or snow. Some of our water was frozen in the morning, but the ground was dry and we were able to pack up dry tents.
This was our one hundred thirty-first consecutive month with at least one overnight camping trip.