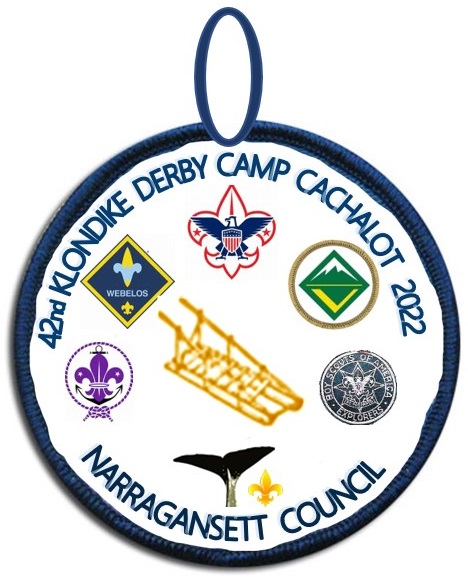 We returned to Cachalot Scout Reservation in Myles Standish State Forest in Plymouth, Massachusetts, to participate in their annual Klondike Derby event and to camp for the weekend.
Upon arriving at the camp in the dark on Friday night, we found the parking lot empty and the cabin where we were to get our site assignment empty and dark. We found the only event staff onsite at the campmaster cabin, and they were surprised to see us! It seems the Narragansett Council had banned camping that weekend because it was too cold and windy. Since they had failed to inform us or the office staff we had communicated with that day, we were allowed to stay. As a result, we were the only unit tent camping there that weekend. We were assigned to Scouter's Corner, a nice, flat site on the shore of Little Fivemile Pond.
We had 6 youth and 5 adult participants on this trip.
We were treated to some nice, crisp weather. The first night, there was a constant wind about 30 MPH with gusts to 50 MPH. It was a challenge to set the tents up without losing pieces to the wind. It was around 15°F when we finished setting up and went into our tents. Learning a lesson from some of our weather-related equipment damage over the last year, we skipped the popup canopies on this trip. The second night, the temperature dropped to about 5° and was still there when we got up.
The site had a frost-free valve right in it , which was convenient since our 7 gallon water container was a sold block of ice most of the weekend.
At the Klondike event on Saturday, there were about 20 sleds competing. Most, like ours, were "Scout" sleds; a few were "Senior" sleds and one was a Webelos/AOL sled. Our Scouts made it to every running station. A few of the usual stations, including the sled race, were not running this year. Sadly, there was no snow in this forest for this sled-based event.
Our leaders helped run the "Snow Shoe Relay" station.
While the Scouts finished the last stations, Mr. Mart cut and split a huge pile of firewood. He then built a blazing campfire to ward off the cold.
Back at the site, Mr. MacNeal cooked a Cincinnati chili for the adults. Rowan had brought his own recipe for chili for the Scouts, making over a gallon of the stuff to use as a topping for hot dogs. The Scouts cooked their hot dogs on a grate hanging over the fire pit (a recent addition to the troop gear).
This was our 157th consecutive month with at least one overnight camping trip.