Summer Camp 2021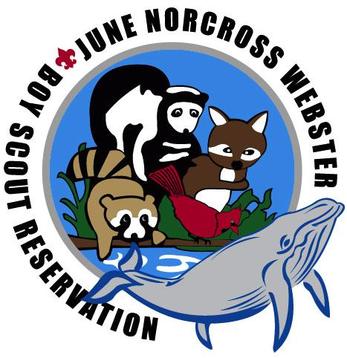 Sunday, July 11 -
Saturday, July 17, 2021
J N Webster Scout Reservation
Ashford, Connecticut
Event Description
This year, Troop 54 will attend summer camp at June Norcross Webster Scout Reservation, our first time at their summer camp. This camp is out-of-council for us as it is in Connecticut Rivers Council. July 11-17 is their Week 3. Our Scouts will stay in two-person canvas wall tents on wooden platforms (one participant per tent, due to COVID-19, except for siblings). Each Scout will have a cot. Meals will be prepared by the camp and served in their dining hall (at scheduled times and via "grab and go" service to ensure distancing). Our camp site will be determined later.
To get a picture of camp life, you can look at the Camp Video.
Registration
Program
Activities at camp include merit badge sessions, patrol activities and troop activities (such as camp fires). The following documents/pages provide some detail:
Badges earned during Summer Camp will be presented at a Court of Honor in September.
What to Pack
See our summer camp Packing List. To emphasize a few items to bring:
Full uniform (shirt, pants, socks, neckerchief, neckerchief slide, belt) - we will wear these daily for evening meals and assemblies.
Drink mix packets - everyone needs to avoid becoming dehydrated. If you have difficulty drinking water, bring something to mix into it.
Flip flops - to wear in the shower. It is probably a good idea not to touch the floor.
Mosquito net - see our page for details.
COVID-19
As camp approaches, the COVID-19 pandemic is fast approaching the point on April 19 when all Massachusetts residents age 16 and over are eligible for the vaccine and just months from the point when vaccine supplies are sufficient for anyone who wants to take the vaccine. How Camp Will Be Safe This Summer from the Connecticut Rivers Council summarizes the COVID-19 controls to be employed during summer camp.
Travel
Departure - We will meet at Epworth at 11:30 AM on Sunday to pack our gear into the trailer. We need to arrive at the camp at 1:00 PM. The drive to the camp takes about 55 minutes, so we will leave Epworth at 12:05 PM. Each Scout should be driven to the camp by a household member. Have lunch before coming to the church or bring a bag lunch to eat at the camp (nothing that requires cooking). Our first camp meal will be dinner.
Late arrivals at camp - Advise the Scoutmaster in advance. The troop is expected to show up together.
Return - Our estimated return to Epworth is 11:00 AM on Saturday. Bear in mind the Nouvelle Arche services likely will be in progress when we arrive at the church.
Page updated 4/5/21
J. Froimson