Air Line Trail Backpacking Trip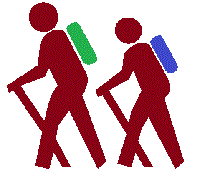 Saturday, June 3 -
Sunday, June 4, 2023
Mashamoquet Brook State Park
Pomfret, CT
Event Description
For our June trip, Troop 54 will backpack a segment of the Air Line Trail into Mashamoquet Brook State Park in Pomfret Center, CT. We will camp at the Averil youth group camping area. The backpacking portion will likely be about five miles each day.
This trip is open to Scouts BSA members. Participants should weigh at least 90 pounds or bring a parent to carry some of their stuff.
Registration
Packing
Use our Backwoods Camping List to ensure you pack the needed items and see our Personal Camping Gear page for descriptions of most of the items needed and for how to use the checklist. You will pack your stuff in either an external frame or internal frame backpack (the big kind). Specific items to bring:
Water bottles (2)
Full uniform (as for just about any event) - wear this.
Sturdy hiking boots or shoes should be worn. Youth should wear their planned shoes for a day in advance of the trip to ensure they have not outgrown the shoes.
Food - Each patrol should plan to provide 1 breakfast, 2 lunches (on the trail) and 1 dinner. Participants bring your own drinks and food for snacks.
The forest has a small pond. If that is open, participants may want to bring swimwear and a small towel.
Travel
Meet at the Epworth United Methodist Church parking lot at 7:15 AM Saturday for departure by 7:30 AM.
Travel to the trailhead on Lewis Road in Hampton, Connecticut is approximately 45 minutes.
Estimated return to the church is 3:00 PM Sunday.
Page updated 4/11/23
J. Froimson