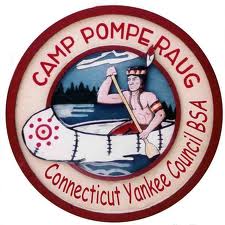 Troop 54 camped at Camp Pomperaug in Union, Connecticut. Upon our arrival at the camp, the campmaster re-assigned us to the yard next to the Algonquin Cabin. This meant we were camping just outside the cabin we used during our February 2014 Cabin Camping Trip. We mostly set up in the dark.
We had 6 Scouts, 3 leaders and 1 other adult participating on this trip.
Our newer Scouts worked on some rank requirements, including working on the Outdoor Code and Firem'n Chit.
The weather was great, with short sleeve temperatures during the day and no rain.
The Scouts used our chariot to haul the seven gallon jugs of water up to the site. During some down time on Saturday and Sunday, they took turns pulling each other around Algonquin Field on the chariot.
The camp has a pond, but its level had been lowered for some sort of maintenance. Fortunately for any fish living in the pond, it was not completely drained.
On Saturday, we went on a hike into Nipmuck State Forest. On the way back, we encountered a couple out with two dogs. One of the dogs continued with us, sticking with us almost all the way back to the camp. Fortunately, the dog's tag had its owner's phone number, so we were able to call the owner to come and get Sam, the dog. Along the way, we saw the grave of Benedict Arnold.
Mr. MacNeal cooked a variety of gourmet dishes for the leaders. Between the leaders and Scouts, we had meals cooked in Dutch ovens, on camp stoves in pots and on a griddle and on a grate over the camp fire.
This was our one hundred forty second consecutive month with at least one overnight camping trip.