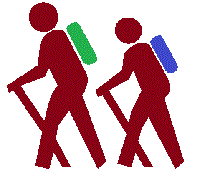 In a way, backpacking is the ideal event for the COVID-19 era; staying socially distant while hiking a trail is pretty simple. On this trip, we hiked a portion of the Midstate Trail. We had 4 Scouts and 4 adults participating.
We started the first day's hike at the Spencer Airport and had a day of really nice weather. Our actual hiking distance was 5.4 miles, ending at the Fort Courage camp site in Treasure Valley Scout Reservation. With recent rain, the trail had some critters, including red-spotted newt and toad.
We arrived at the site in the early afternoon and set up under clear skies. The younger Scouts had time to catch frogs in a stream and near Browning Pond. Most of the dinners were freeze-dried, making for quick cooking and simple clean-up. It was after the evening game of Manhunt that one Scout tripped and fell, ending the campout for that Scout and his father.
The second day was spent almost entirely in the rain, which started hours before we woke up. Our plan was to take a camp trail from near the Katahdin site back to the Midstate Trail, but it had grown over since our last hike that way several years ago. Instead, we followed the Blue Trail back along the pond to the Midstate Trail where we had left off the day before and followed that North into Rutland State Park. We hiked most of the day in the rain, which let up as we approached the end of hike. It turned out that the location we had for the shelter was quite inaccurate. We eventually got to the shelter and set up our tents (due to COVID, only one Scout could sleep in the shelter). Our trail distance was 6.1 miles that day.
Long Pond was our nearest water source, but the water's edge had grown in over the last few years, so we had to make our way along the shore path quite some distance to get to accessible water. The round trip for the water run was 1.1 miles with 270 feet of elevation to the shelter.
Since we had already hiked a good distance and all of our stuff was wet, we decided to end our trip at the nearest trailhead. The last day's hike was only about 0.9 mile, completed in 27 minutes. See our actual trail as recorded by Joshua Froimson:
My Maps - map uploaded into Google My Maps
GPS Visualizer
GPX file
This was our one hundred fortieth consecutive month with at least one overnight camping trip.