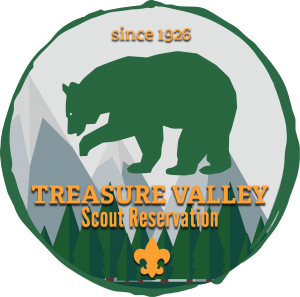 Troop 54 camped at Treasure Valley for our first time since July 2018, this time with Troop 7054. Together, Troop 54, Troop 7054 and Pack 54 had 14 youth participants and 6 leaders on this trip.
The hard shelter and latrine in High Mesa had solar powered lighting which we could see once we fired up a white gas powered lantern.
On Saturday morning, Troop 54 went fishing at Browning Pond. One Scout caught the only fish early on, and one unlucky tree was caught by two different Scouts.
Troop 7054 brought a whole trailer of bicycles. On Saturday morning, they went for a bicycle ride on the Rail Trail, first driving to the trailhead for safety sake.
The weekend saw a variety of cooking equipment and techniques. Mr. MacNeal's culinary creations featured two meals cooked in a Dutch Oven. Troop 7054 cooked on a propane stove; their home-made macaroni looked like the most popular youth dish. Troop 54 cooked on white gas stoves; forgetting to bring their seasonings kit took their menu down a notch. Mr. Kennedy assembled a spit from sticks and roasted pork over a carefully controlled fire.
While we were in camp, Catamount Lodge (OA) had is Fall Gathering. Khoi Pham had his ordeal during that and is now a lodge member.
Members of both troops took some time to plan skits, games and gear for the upcoming Ethan Allen Fall Camporee.
The weather was unseasonably warm (perfect), with no rain, for this trip. We all stayed "sprayed up" to ward off the few mosquitos.
This was our one hundred twenty-ninth consecutive month with at least one overnight camping trip.