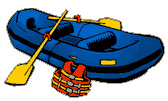 Troop 54 returned to Maine for whitewater rafting for our first time since 2007. This time, we rafted on the Kennebec River to The Forks with Crab Apple Whitewater.
Having left the church at about 12:30 PM, we stopped at the Crab Apple HQ and made it to their camp by about 5:30 PM, in the day for a change. Their camp has two sites. We had Site 2, and Troop 161 of Sturbridge (from the our council) had Site 1. We had 4 Scouts and 3 leaders participating on this trip.
The rafting was great. Our troop fit into one raft, together with a guide. This run features Class IV rapids, mostly toward the beginning. The largest waves we went over were about 10 feet high. During the more calm section, participants were able to jump overboard for a nice, cold swim.
Back at Crab Apple HQ, we had their BBQ lunch, and some of the Scouts went swimming in their heated in-ground pool.
On the way back to the camp site, we stopped at a forest and hiked to Moxie Falls. This is one of Maine's highest waterfalls, including a single vertical drop of nearly 90 feet.
Back at the camp site on Saturday, we had some rain. In the evening, it came down hard enough to douse our camp fire, and It rained a bit early in the morning. Otherwise, the weather was good.
Someone in Troop 161 had a drone, and they provided a few overhead shots of our campsite.
This was our 173rd consecutive month with at least one overnight camping trip.