Kennebec River Rafting Trip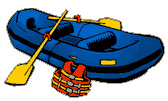 Friday, May 19 -
Sunday, May 21, 2023
West Forks, Maine
Event Description
This is our first rafting trip since 2015. On this trip, we will camp at a Crabapple campground in West Forks. During the day on Saturday, we will head over to Crabapple Whitewater for a whitewater rafting trip on the Kennebec River. This trip will take us on 16 foot long rafts over 10-12 foot waves with a time on the river of 3-4 hours (Class 3/4/5).
This trip is open to Scouts BSA members and Webelos/AOL Scouts, minimum age 10.
Registration
Because this trip involves a fairly long drive, we are requiring a minimum of five youth participants and two leaders/drivers. The number registered will be assessed shortly after the registration deadline. If registrations are insufficient, the trip will be cancelled, fees refunded and an alternate trip arranged. This is why our registation deadline is so early.
Packing
Use our Personal Camping List to ensure you pack the needed items and see our Personal Camping Gear page for descriptions of most of the items needed and for how to use the checklist. You can pack your stuff in a backpack (the big kind), a duffle bag or a tub. Specific items to bring:
Water bottles (2)
Full uniform (as for just about any event) - wear this.
Day pack
Food - Each patrol should plan to provide 2 breakfasts, 1 lunch and 2 dinners. Participants bring your own drinks and food for snacks.
Also, see CrabApple's What To Bring page. We have already paid for the wetsuit rental with our package.
Travel
Meet at the Epworth United Methodist Church parking lot at 12:00 PM Friday for departure by 12:15 PM.
Travel to the campground is approximately 4.5 drive plus any rest stops. We will initially drive to CrabApple Whitewater at 3 Lake Moxie Rd, West Forks, Maine.
Estimated return to the church is 3:30 PM Sunday.
Page updated 5/15/23
J. Froimson