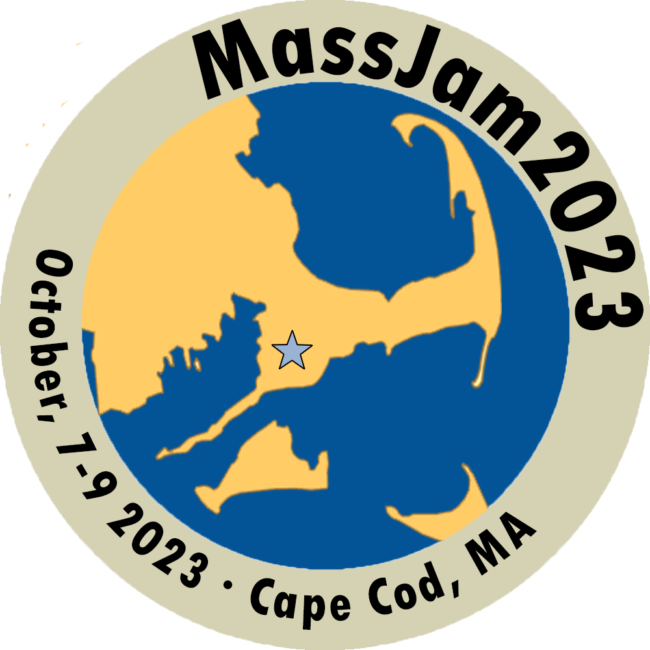 Saturday, October 7 -
Monday, October 9, 2023
Cape Cod Fairgrounds
East Falmouth, MA
Event Description
MassJam 2023 is a multi-council event which expects thousands of Scouts from around our region. With several "Action Centers", exihibits, displays, evening programs and two nights of camping, this should be lots of fun!
This event requires careful planning. Some of the key logistics:
Due to tight space, Scouts are expected to sleep three to each tent, and we expect to share a 50x50 ft site with another unit.
We need to bring everything for a complete campsite set up on a field.
We will not have access to power outlets during the event.
Only liquid fuel and propane stoves are allowed. Charcoal cooking and wood (or any open) fires are not permitted.
To reduce traffic, MassJam has implemented key restrictions:

No visitors to the event
Coming and going during the event is discouraged. Leaving the event to shop for forgotten items is not an option at this event.
Only the vehicle pulling the trailer can (briefly) go to the site.

Our camp site will be a shuttle ride from where the passenger vehicle(s) get parked, so all of our stuff should be brought in the trailer or in one day pack per person.
For more information about MassJam, see:
Draft Leader Guide - This document provides details on how the event will be run. Read it for the many rules that apply.
Event Website - Participants can optionally pre-order some souvenirs on this site.
This trip is open to Scouts BSA members.
Registration
Packing
Use our Personal Camping List to ensure you pack the needed items and see our Personal Camping Gear page for descriptions of most of the items needed and for how to use the checklist. You can pack your stuff in a backpack (the big kind), a duffle bag or a tub. It is strongly recommended to put your name and phone number on objects, especiallly outerwear, cell phones, day packs and hats. Specific items to bring:
Full uniform (as for just about any event) - wear this.
Water bottle.
Day pack.
Wet weather clothing.
Long pants - October evenings can be cold, and shorts are not acceptable for preventing hypothermia.
Spending money - There are concessions at the event for food and souvenirs.
Food - Each patrol should plan to provide 2 breakfasts, 2 lunches and 2 dinners. Participants bring your own drinks and food for snacks and for lunch on the way home if you want that.
Travel
Meet at the Epworth United Methodist Church parking lot at 6:00 AM Saturday for departure by 6:30 AM. This early departure is needed to allow us to complete campsite setup by 11:00 AM.
Trailer vehicle: Travel from the church to the Cape Cod Fairgrounds is about 1 hour and 30-50 minutes. This line needs to be updated before the 2023 event.
Passenger cars arriving Saturday will be parking at the Steamship Authority Parking Lot at 1251 Sandwich Road, Cataumet.
We estimate departure from the fairground and parking areas at 11:30 AM and a return to the church at about 1:30 PM.