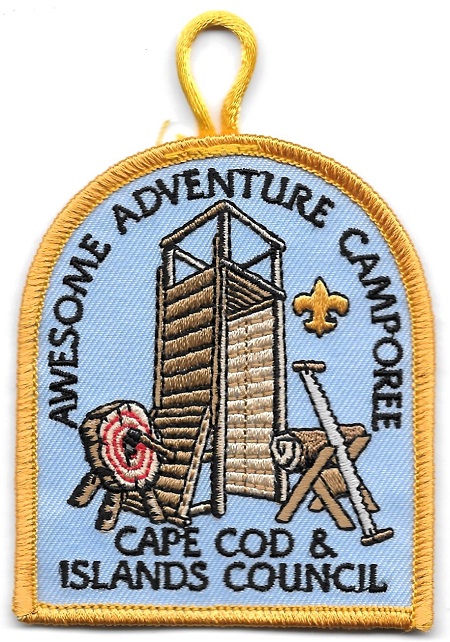 Troop 54 traveled to Camp Greenough in Yarmouth, Massachusetts, our first time camping there since 2007. We went there to participate in the Awesome Adventure Camporee, a Cape Cod & Islands Council Camporee. The camp was relatively full with about half of the units there for the event and the rest using the camp as a base station for cycling the Cape Cod Rail Trail.
We arrived well after dark, but the campmaster provided directions to the site and followed us in to make sure we go there and managed to park. With a narrow road and lots of trees, getting the trailer into the site was a bit tricky. We had 8 youth participants and 3 adults on this trip.
We camped in the Hokum site. This site had a fire pit, picnic tables and room for only a few dispersed tents. The nearest latrine and water source was hundreds of yards away near the rifle range. Because of fire danger across the state, fires were not permitted. We only cooked in the site for breakfast and lunch on Saturday. Dinner that day and breakfast the next morning were prepared by adults from a troop that operates its own summer camp there and served at the pavilion near the Dining Hall.
The event had about 75 participants in about 13 units. Its activity stations were the COPE course (climbing), hatchet throwing, two person saw, mountain bicycling, black powder gun, BB gun (on an inflatable range) and branding. Our Scouts participated in all but the bicycling and seemed to enjoy the zip line at the COPE area the most. In addition, they had fun on a basketball court near the rifle range.
On the last day, the camporee closed with a tasteful 9/11 commemoration ceremony during which it was noted that this is the first year no youth member in Scouting was born before 9/11.
The Council Executive was on hand to see how things were going during the event.
This was our 165th consecutive month with at least one overnight camping trip.