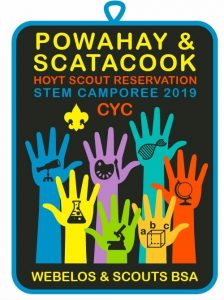 Troops 54 participated in the STEM Camporee at Hoyt Scout Reservation in Redding, Connecticut. We were joined by Troop 7054. This was our first visit to Hoyt, at least in recent years, and the 27th Scout camp we have camped in since 2006. Our combined contingent had 11 Scouts and 5 leaders.
The camporee had several activities during the day, including rifle, BB gun and archery. Two tournaments ran - chess and ultimate frisbee. Scouts were optionally able to register in advance to take merit badges. Two of our Scouts took Programming, which was run at the Microsolft Store in the nearby Danbury Fair Mall, and two of our Scouts took Electricity. Some of us hiked a trail loop through the woods.
The most poplular area all Saturday and into Sunday was the Gaga pit, where crowds of enthusiastic participants (incluiding our Scouts) played endlessly and loudly. Some advancement work in the troops rounded out the weekend.
We were the only out of council units at the event, which drew over 10 units from the Powahay and Scatacook Districts in Connecticut Yankee Council.
We were lucky with the weather. It had rained almost right until we got to the camporee, but then, the rain held off during our time there.
The Troop 54 Scouts found themselves without the main ingredients for the chili they had planned to make for dinner on Saturday. With a donation of some hot dogs from Troop 7054, they whipped up an alternate chili that they claimed was pretty good.
This was our one hundred twenty-fifth consecutive month with at least one overnight camping trip.