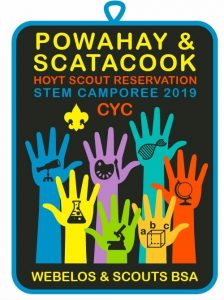 Friday, May 17 -
Sunday, May 19, 2019
Hoyt Scout Reservation
Redding, Connecticut
Event Description
This will be our first trip to Hoyt Scout Reservation, at least since 2006. Hoyt STEM Camporee (aka, "Scouts BSA Spring Camporee" or "Powahay Scatacook Hoyt Escape Spring Camporee"), a camporee run by the Powahay and Scatacook Districts in Connecticut Yankee Council, will offer a variety of activities.
Discover Hoyt Scout Reservation:

Open Program Areas
Rifle and Archery Stations
Gaga Pit
Conservation Awards and projects
Hikes Galore
Star Gazing Party
Friday Night Movie
Ultimate Frisbee Championship Tournament

STEMFEST:

11 Different Merit Badges
Nova/STEM Workshops
Saturday Night Gaming Party
For more information, see:
Leaders Guide
Merit Badge Guide Book
This trip is open to Scouts BSA members. Webelos Scouts and Bear Scouts are invited to participate in the camporee (Webelos and AOL dens) with a later departure and camping with the Webelos Overnight Weekend.
Registration
Packing
See our Personal Camping Gear page for a check list and descriptions of most of the items needed. Personal gear can be packed in a backpack, zipper bag or tub as we will be not be hiking a significant distance with the gear. Specific items to bring:
Full uniform (as for just about any event) - wear this.
Water bottle.
Day pack.
Note pad and pencil or pen for taking notes at merit badges
Spending money - There may be concessions at the event for food and souvenirs.
Travel
Meet at the Epworth United Methodist Church parking lot at 6:00 PM Friday for departure by 6:30 PM.
Travel from the church to the Hoyt Scout Reservation is about 2-1/2 hours.
We estimate departure from the fair ground at 11:00 AM and a return to the church at about 1:30 PM on Sunday.