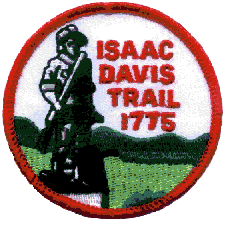 Troop 54 participated in the Isaac Davis Camporee, this time, we were joined by Troop 7054 and members of Pack 54. This was the first campout for Troop 7054. We had a total of 9 youth and 5 adult participants.
We got up at about 4 AM to be on the bus at our appointed time of 5 AM. After a long time assembling at a school, the procession began, stopping first at the Isaac Davis home for some historical perspective and a gun salute by the re-enactors. Along the way, we also stopped in Acton center for more of the story of Isaac Davis and his militia unit.
The hike from Acton to Minute Man National Historical Park in Concord was close to 7 miles.
We were lucky with the weather. It had rained almost right until we got to the camporee, but then, the rain held off during our time there.
About 40 units participated in the camporee, coming from Massachusetts, Connecticut, Rhode Island, Maine and New Hampshire.
During the afternoon the first day, some activity areas were set up. Our Scouts tried tug of war, hatchet throw, archery and other activities. A blacksmith was there, demonstrating his craft.
This was our one hundred twenty-fourth consecutive month with at least one overnight camping trip.