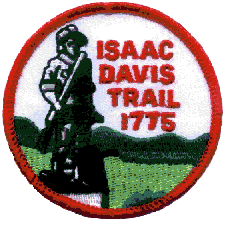 Saturday, April 13 -
Sunday, April 14, 2019
Acton, MA
Event Description
Troop 54 will participate in the Isaac Davis Camporee and March for our first time since 2011. This camporee memorializes the first uniformed soldier to die in the defense of the United States. The event is run by the Scouters of the Isaac Davis Trail.
The camporee features:
Scouts can earn the Isaac Davis medal by reading the history section of the event website and completing a historical questonnaire.
This trip is open to Scouts BSA members, and we invite Webelos Scouts (Webelos and AOL dens) to participate with us.
Registration
Packing
See our Personal Camping Gear page for a check list and descriptions of most of the items needed. Personal gear can be packed in a backpack, zipper bag or tub as we will be not be hiking a significant distance with the gear. Specific items to bring:
Travel