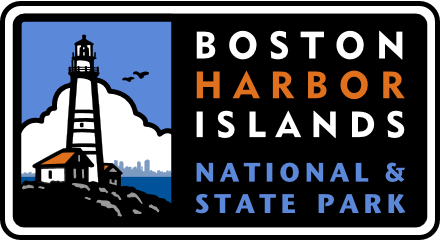 Our trip to the Boston Harbor Islands was our first since 2019. The inter-island ferry service has not been running for the last few years, so we took a ferry that went straight from the Hingham ferry terminal to Peddocks Island and the same line back the next day.
We shared the group camping area with Troop 1774 Boys and Troop 1774 Girls, of Ludlow, Massachusetts. We had 6 youth and 3 adult participants on this trip.
The forecast called for rain for much of the weekend, but it ended up only raining a bit over Saturday night, making for perfect weather. The group camping area had no shade, so we set up a tarp on poles over the picnic table in case of rain. The way the tarp sagged in the middle, it would not have worked well in the rain, but it was great for shade.
Most of the Scouts tried a couple of Meals Ready to Eat for lunch on Saturday, just for something different.
We went to the Visitor Center to learn a bit about he island and the fort that once operated there. The Scouts also enjoyed playing some games there. The main museum is on Georges Island which we were not able to visit this time. We toured the remnants of Fort Andrews. While the mortars were long ago removed, we could see where they were mounted and where the powder was stored. It was amazing to see how large the trees had grown on top of the fortifications that surely had no foliage when they were active.
Like all of the forts on these islands, this fort was never used in battle, becoming obsolete as military technology developed.
The island has two cove-like beaches between its two "heads" (camping was on the East Head). We visited both beaches, one during the day and the other at sunset.
There were few, if any, mosquitoes, but the black flies were out in force, and they didn't seem to mind DEET at all. One difference camping on this island, compared with other parks, is that fires are allowed only below the high tide line. During our visit, high tide was around 8 PM, so that was not an option for us.
This was our 176th consecutive month with at least one overnight camping trip.