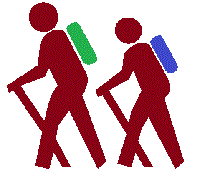 Troop 54 returned to the Air Line Trail for our first time since 2019. We camped at the Averill Hollow site at Mashamoquet Brook State Park in Pomfret, Connecticut. We had 4 youth and 3 adults participants on this trip.
We had great weather for backpacking – not too hot.
The Averill site is a large camping area (probably half an acre) with a trail shelter, picnic table, camp fire ring and portable toilets. Best of all, unlike other camping areas at the park, this one is off by itself. As the water pump in the site was closed several years ago, we walked over to the Wolf Den Campground for water.
Being a former rail bed, the Air Line Trail is the flattest trail we ever backpack on. After entering Mashamoquet Brook State Park, we stopped at the pond area for lunch. The pond is empty for a second year due to some sort of maintenance issue. From the pond to the site is the only part of this hike with elevation gain, but even that was not too bad.
We hung a bear bag although that practice seems to be going out of style. There may have been some damage to one of the grocery bags hanging on our line, but our food was fine in the morning.
With the diseases now available from ticks and mosquitoes, we had the Scouts use their tents inside the trail shelter.
Our hike measured at about 6.8 miles each way by GPS. We had a moving average of 2.5 miles per hour the first day and 2.8 the second day. See our actual trail as recorded by Joshua Froimson:
My Maps - map uploaded into Google My Maps
GPX file (for downloading)
On the way back, we stopped at We-Li-Kit Farm in Pomfret Center for ice cream. This was one of several local businesses that had a well-marked side trail off the Air Line (we drove there).
This was our 174th consecutive month with at least one overnight camping trip.