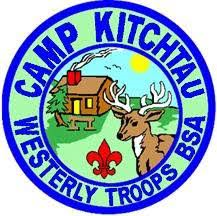 This trip took us to Camp Kitchtau in Stonington, Connecticut, for our first time. While the camp has sites for about 20 units, we were the only unit using it that weekend. The camp also has a parade field, a cabin and a council ring. A dining pavilion is equipped with a large grill and a fireplace. Arriving after dark, we were able to set up camp in relatively dry conditions. The site we selected was wooded; it had a fire ring and plenty of flat space for tents.
We had 4 Troop 54 Scouts, 1 Pack 37 AOL Scout, 2 Troop leaders and one parent participating on this trip.
During the day on Saturday, we visited the Mystic Aquarium in Mystic, Connecticut, our first time visiting it as a troop. All of the exhibits were open, both indoors and outdoors. Several beluga whales were in the viewing enclosure when we arrived. Our Scouts liked the animal interactions the best, spending a lot of time petting small sharks and other fish. The other hands-on exhibits were also popular with the Scouts. The sea lions put on an impressive performance in the theater.
The aquarium did not allow outside food to be brought in, so we had lunch at the picnic area outside the facility. It was raining while we ate, so our food was a bit too moist.
Back at the camp site, the Scouts did some of their most involved cooking in quite some time, making a meat loaf from scratch and baking it in a stove top oven.
The pandemic has greatly reduced utilization of this camp. As a result, there was plenty of firewood in and near the camp site.
This was our 156th consecutive month with at least one overnight camping trip (13 years).