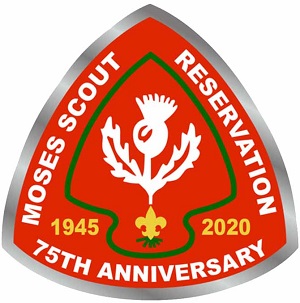 For this trip, we returned to Horace A Moses Scout Reservation in Russell, Massachusetts. We had the tenting site near the Training Lodge, a site that has yet to acquire a name or an obvious way to be reserved. A big plus for the site was a working water faucet at the site. We set up camp in the dark on Friday after another troop that had been double booked into the site moved out.
We had six Troop 54 Scouts, one Pack 37 Webelos Scout, four Troop 54 leades and one parent participating on this trip.
The first of the two events taking place at the camp was WHOA (Woronoco Heights Outdoor Adventures). About 150 participants reportedly signed up for this.
Our Scouts tried the 50 foot climbing wall, with at least one Scout (and Mr. Mart) making it to the top. They visited the archery range, which was set up on the Parade Field. Their final station was tomahawk throwing, which took place in the camp's permanent hatchet facility, the only one we have seen. There were other fun stations that we didn't have time to visit, including rifle range, escape room, geocaching and nature program.
With some free time in the afternoon our Scouts walked down to the waterfront area. That area turned out to have lots of salamanders and frogs, which the Scouts enjoyed catching.
Just before dinner , the 75th Anniversary participants gathered outside the Knox Dining Hall to hear about the history of the camp from a scouter who had also been at the 25th and 50th anniversaries. The cook from summer camp then served dinner.
Just outside our camp site, there were huge piles of rocks and wood chips. Our Scouts seemed to find playing on those the most fun part of the campout, probably followed by playing games with other Scouts in the Gaga pit.
This was our 153nd consecutive month with at least one overnight camping trip.
Our participants got two patches and a cool laser cut and etched wood medalion as souvenirs.