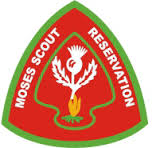 As we typically do, we arrived at Horace A Moses Scout Reservation after dark. A sign and the Campmaster pointed us in the direction of 3 sites. The individual sites didn't have signs, so we ended up setting up camp at the Ticonderoga Campsite. We had 5 Scouts and 5 adults participating on this trip.
On Saturday, the precipitation started with a nice, cold rain. For extra social distancing space, we had set up the kitchen area under 3 canopies instead of the usual 2.
During the day on Saturday, we traveled to Springfield to visit the Springfield Museums. The snow in Springfield was pretty heavy, which we noticed as we tromped from one museum to the next. First up was the Dr. Seuss Museum where many of the characters from the books we had read long ago had been rendered as statues and some of Theodore Geissel's history was brought to life.
Next, we covered the Springfield Science Museum. Dinosaurs and Earth Science were popular an expected areas; an exhibit of gingerbread houses was a seasonal special. Since the snow was so heavy, the museum staff allowed us to eat our lunches in a function room at that museum.
After lunch, we headed over to the Wood Museum of Springfield History. This place had a superheros exhibit and a really interactive games exhibit (the Scouts' favorite). The extensive exhibits covering manufacturing of automobiles, motorcycles and firearms in the area were really well done.
Our last stop was the D"Amour Museum of Fine Arts. This museum had exhibits covering many genres. The only museum we didn't visit was the George Walter Vincent Smith Museum.
When we returned to camp, 4 of our tents had been flattened by the wet snow, and two of the three pop-up canopies over our cooking area had been destroyed by the snow (one with the metal structure bent and the other with the top torn). When we dug out the tents, 3 were fine, but one was damaged and had allowed its contents to get wet, so that Scout had to head home after dinner.
This was our one hundred forty fourth consecutive month with at least one overnight camping trip.