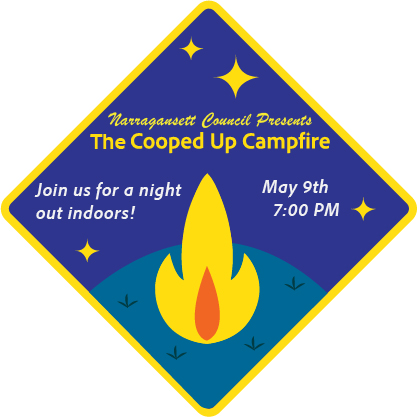 During program planning, this month's trip was to be a combination of camping and zip lining. With the COVID-19 shelter in-place still in effect, we instead held a virtual campout. We each camped in our own backyard , connecting during pre-defined periods via Zoom. We also participated in the Cooped Up Campfire, a Narragansett Council on-line event.
We had two Scouts and four leaders participating.
This trip was in May, but it was snowing very lightly at times. In the morning, some of our yards had a coating of snow, and we had a noticeable amount around our tents.
The Cooped Up Campfire was led by a camp staffer from Camp Yawgoog. It had only a few actual skits (they didn't use the one we submitted). Instead, it mostly featured brief words of congratulations about the great work Scouts do from Rhode Island politicians and radio personalities.
This was our third month of virtual camping, and with the Reopening Massachusetts standards issued on May 18, it will not be our last.
This was our one hundred thirty-seventh consecutive month with at least one overnight camping trip.