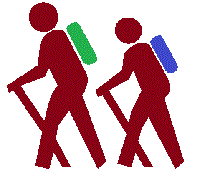 Troop 54 traveled north for our fourth trip to the Green Mountain National Forest and our first since 2013. Much of our hike was on the Long Trail / Appalachian Trail. The first day, we backpacked first to Bourn Pond, covering 7.1 miles. This started with an elevation gain of over 1,000 feet in the first 2.67 miles, and most of this day, we were on the Branch Pond Trail.
Our only challenge that evening was finding a site in which to camp. There were a few minimalist camping areas, but the most logical one was occupied by a family that didn't want to share. We finally settled in for the night at "Camp Area North". We purified water from the pond.
The second day, we backpacked 3.1 miles to Stratton Pond. That camping area was managed by the Green Mountain Club which had a caretaker staying at a platform across the pond. We had just finished cooking and cleaning up from our early dinner when the skies opened up, sending everyone running for our tents. Fortunately, the rain stopped by morning, so we didn't have to hike in the rain.
The hike back to the cars, mostly on the LT/AT, was 8.1 miles.
We had 2 Scouts and 3 leaders participating on this trip.
To comply with the current requirement that Scouts sharing a tent can't be more two years apart in age, everyone carried his own separate tent, the first time we had to do this.
Getting totally away from roads and the sounds of civilization was nice. Everyone agreed that the views were pretty spectacular. The Green Mountains are indeed very green.
On the way back, we stopped for ice cream at Spiral Scoops in Manchester Center, Vermont.
See our actual trail as recorded by Joshua Froimson:
My Maps - map uploaded into Google My Maps
GPX file
This was our one hundred twenty-eighth consecutive month with at least one overnight camping trip (two this month).