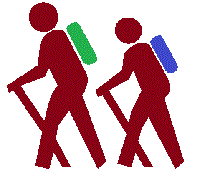 Troop 54 backpacked a segment of the Air Line Trail in Pomfret, Connecticut, our third trip on that trail, our last having been in 2014. We camped in the Averill Hollow youth group site at Mashamoquet Brook State Park.
We backpacked 6.9 miles the first day (including one wrong turn) and 6.3 miles the second day. We happened to reach a park visitor center right at lunch time the first day, so picnic tables there made for a comfortable lunch stop. One twist this time was that a sanitary sewer was under construction under most of the portion of the trail we were hiking, leaving the path bumpier and muddier than usual. See our actual trail as recorded by Joshua Froimson:
My Maps - map uploaded into Google My Maps
GPX file
The small farm near the trail head no longer had exotic animals in it - only chickens remained.
We had six Scouts and fouir leaders participating on this trip.
The site included a shelter, so the Scouts set up their tents in that (minus the rain covers) just to keep out the bugs. We realized that there were very few mosquitoes anyway.
Once we had the camp set up, three Scouts and two leaders day hiked 2.5 miles round trip for swimming in the park pond, repeating the only steep part of the trail. One Scout was able to work on fire starting skills in camp during that period.
We also had to hike a bit to the Wolf Den Drive camping area to get water as the hand pumped well in our site was no longer working.
The Scouts made hot dogs with couscous for dinner and learned that if you want flavor in your couscous, you need to pick a flavored couscous package.
The weather on this trip was perfect. We didn't see a drop of rain.
This was our one hundred twenty-sixth consecutive month with at least one overnight camping trip.