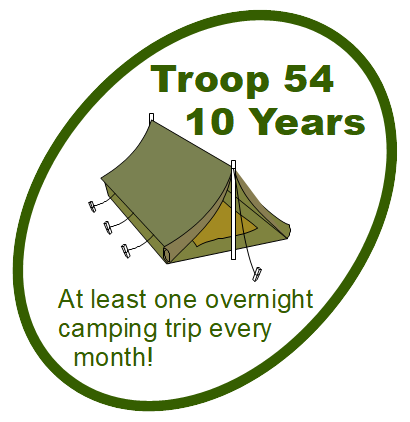 Troop 54 returned to J N Webster Scout Reservation in Ashford, Connecticut, our last trip there having been in December 2012. We had 6 Boy Scouts, 4 Pack 54 Webelos/AOL Scouts, 1 Pack 54 Cub Scout, 1 sibling, 3 troop leaders, 2 Pack 54 leaders and 1 Pack 54 parent on this trip.
We arrived after dark on Friday and set up camp in clear, cool conditions. Temperatures dropped to about 25°F overnight the first night but then warmed to the low 40s and stayed above freezing for the rest of the trip. Rain came during the second night and continued to the end of the trip, but it was only heavy overnight.
It turned out that one of the other units in camp was Troop 281 of Ware, MA (also in our council). We also camped near them on our August 2015 trip to Mt. Greylock.
We had Tent Site 7 (Chipatachaug). The nearby central comfort station was pretty cushy, once they got it into service the second day. Until that, we had the pit latrine in the site.
During the day on Saturday, we visited the Connecticut Science Center in its impressive facility in Hartford. When two of us last visited that for a Pack 91 overnight in 2006, it was in its previous location in West Hartford. This place was great. The exhibits were really high quality and interactive. There were so many exhibits that we didn't quite get to all of them in six hours there.
This was our one hundred twentieth consecutive month with at least one overnight camping trip.