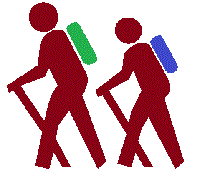 This trip mostly followed the Midstate Trail, part of it a section we had not hiked before. As usual, the Midstate Trail was one of the best blazed trails in the region , with yellow triangles at frequent intervals. Five Scouts and two leaders participated on this trip.
We hiked 9.4 miles on Saturday to reach the trail shelter at Long Pond in Rutland State Park. Even with the long first day's hike, we managed to make camp in daylight, a change of pace for us. Some of the Scouts slept in the trail shelter, and the rest of us camped in three tents.
An even better change was that it did not rain during this trip, making it our first dry camping trip in five months.
The Scouts made a relatively light weight meal out of Ramen noodles and canned chicken.
We hiked 6.0 miles on Sunday. Toward the end, when we had to find our way on other trails in Treasure Valley Scout Reservation, we made use of technology, pulling up the TVSR trail map from the Troop 54 web site and using Google Maps to gauge where we were on that.
This was the troop's seventy-first consecutive month with at least one overnight camping trip.