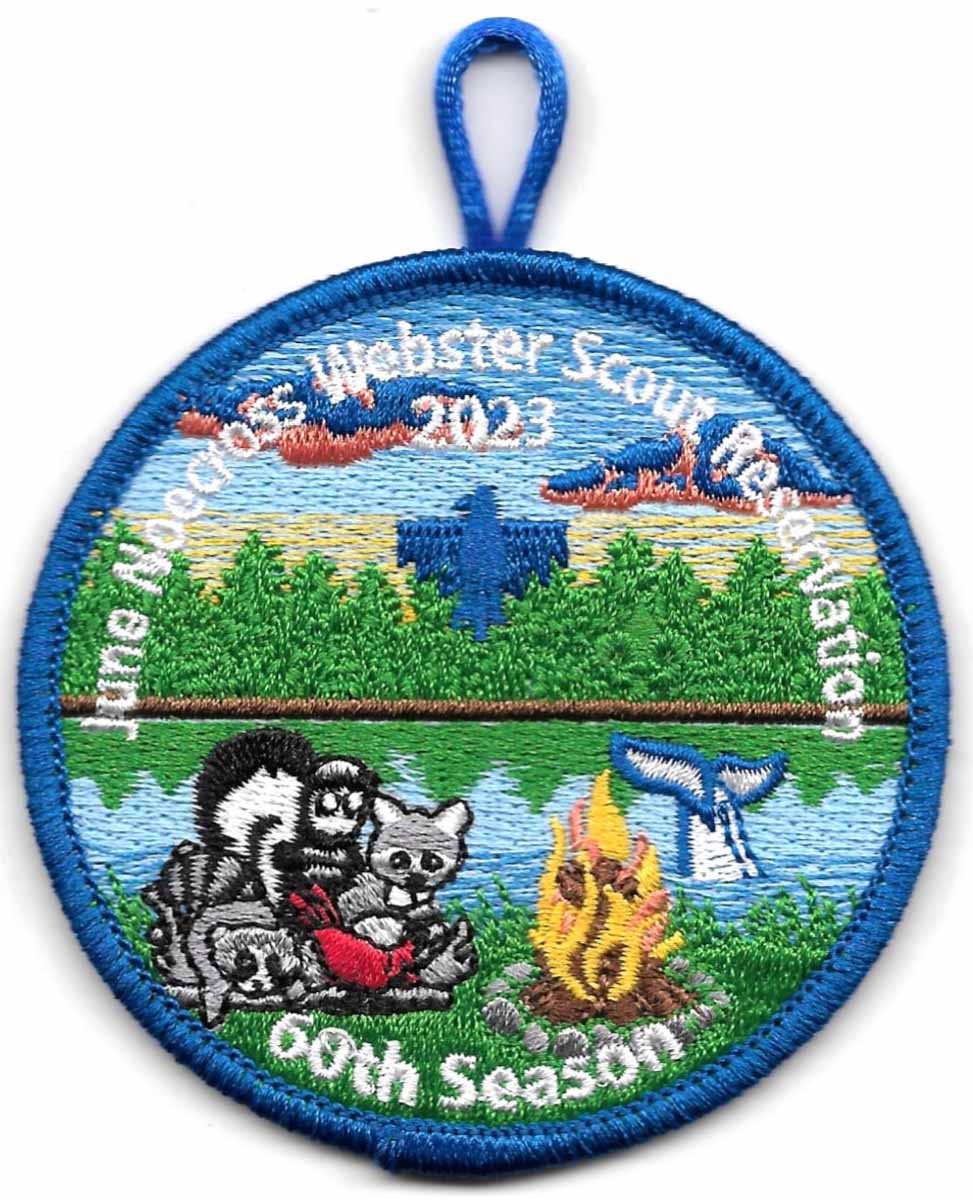 Troop 54 returned to June Norcross Webster Scout Reservation in Ashford, Connecticut, our second time at their summer camp. This is a Connecticut Rivers Council camp. We were in Site 7B (Patrol Site) which is part of the Chipatachaug site; two other troops occupied 7A and the main part of 7B. Overall, there were about 22 troops in camp, plus a provisional troop.
We had 5 youth participants and 2 leaders in camp (total of 7).
We had significant rain on a few days and relatively warm temperatures throughout. The site we had this time drained much better than the one we had two years ago. Due to rain, the opening campfire was canceled, and the opening ceremony was rescheduled to later in the week. Due to forecast heavy rain, the closing ceremony and campfire was canceled; it turned out not to be a bad evening. Meals were served in the dining hall, which is pretty nice. Some units were assigned overflow seating in an adjacent tent area. Only dinner was served to everyone at one, family style. Breakfast and lunch were served individually, and we could go for those at any point during the serving period.
Our Scouts took varying sets of merit badges, including Kayaking, Engineering, Small-Boat Sailing, Chess, Geocaching, Cycling, Canoeing, Moviemaking and Rifle Shooting. They earned 16 merit badges and several partial merit badges.
Mr. MacNeal drove Scouts offsite for Golf merit badge, and Mr. Froimson joined the overnight for Wilderness Survival merit badge; that turned out to be a rainy night in the woods.
The Troop participated in three troop activities. "Capture the Flag" was played on the main field, with the Troop divided into two teams. In "Assault Boats", we went out on the pond in canoes and swamped each other's canoes (and then righted them with T-rescues). In "Defend the Frontier", we joined another troop in building a catapult, competing with another troop. A favorite activity of our Scouts was the Rave, a large, tippy float on the pond. A group of Scouts would climb aboard and then, they knocked each other off until only one was left.
This was our 175th consecutive month with at least one overnight camping trip. See the article on our website for more pictures from this event.
The other patches we received: