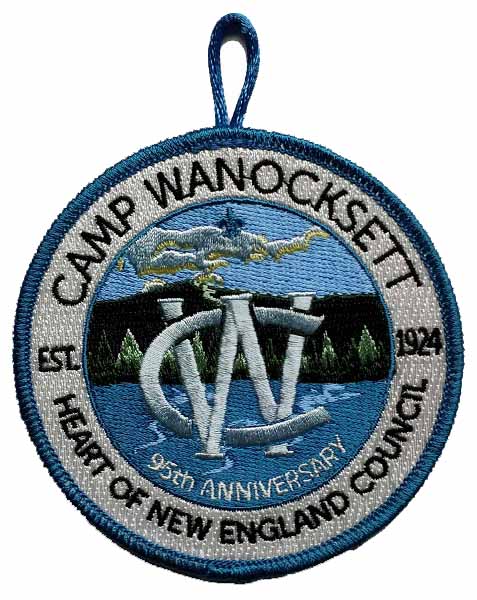 Troop 54 returned to Camp Wanocksett in Dublin, New Hampshire. This was our third season of summer camp there. We camped in the Lower Iroquois site, which is much more centrally located than the site we used the previous times. According to Reservation Director Daniel Meegan, this camp now has the third largest summer camp attendance in New England (after Camp Yawgoog and Hidden Valley). We had six Scouts and two leaders participating.
At this camp, singing in the dining hall is limited to one or two songs toward the end of the meal, which is less disruptive than at some other camps. During our week, there were 16 units (troops and crews), 203 Scouts and approximately 360 people in the dining hall, certainly more than it was built for in 1961, but not the tightest it gets during the summer.
Other distinguishing features of this camp included a dance with the adjacent Camp Wa-Klo (a girls camp), tubing on the pond (pulled by a motorboat) and an evening hike to the top of Mount Monadnock. Open progam hours always included several fun choices of activities for the Scouts. In addition to frequenting the ranges during these hours, one of our Scouts built a cardboard boat for a camp competition, two of our Scouts painted a staff member, they did all sorts of waterfront activites, spent extrra time building robots and sampled some Dutch oven cooking. Of course, they also visited the Trading Post a lot.
This was the first summer of Scouts BSA. There were two girl troops at camp, as well as venture crews with girls and a fair number of female camp staff. The leader of the OA callout ceremonies team was female as well.
At the twice daily Colors, Troop 42 of Quincy, Massachusetts came up with some sort of amusing stunt every day for reporting its status. The best was when they asked the camp Program Director to read a paper they had secreted in his uniform pocket.
One of our Scouts was called out at the OA callout ceremony. At the end of camp, one of our Scouts was awarded the Golden Acorn by the Nature program area, one of our leaders was awarded the Ranger Jack Scoutmaster Award and one of our Scoutgs was awarded the troop Honor Camper award.
Our six Scouts earned 17 merit badges at camp.
The weather on this trip was pretty good. It was generally a bit hot, with significant rain and progam impact on only one day.
This was our one hundred twenty-seventh consecutive month with at least one overnight camping trip.