Robert Goff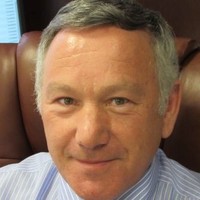 Picture from Robert Goff's Linkedin profile in 2019.
Robert Goff transferred to Troop 54 from Troop 55 at Beth Israel Temple, when that troop dissolved. He was a Star Scout when he transferred. Chris Brown had introduced him to the Troop. Robert Goff attained the rank of Eagle Scout as a member of Troop 54 on December 15, 1969. Recollections he shared in 2019:
I never did summer camp with the troop. By the time I joined the troop I was working on staff at Treasure Valley. I ran the trading Post for a few years, and then was the camp business manager.
Recollections Mr. Goff shared during a troop meeting he attended via web conference in October 2020:
Mr. Goff served as Lodge Chief for Pachachaug Lodge in the Order of the Arrow. He has an Order of the Arrow sash signed by E. Umer Goodman, founder of the OA, whom Mr. Goff met while a Scout.
While serving on TVSR camp staff, Mr. Goff made a connection with someone in health care administration, which became his career.
Mr. Goff did Wood Badge at the West Camp the year that opened.
In the 1960s, each troop arranged for its own food at camp. Stores supported the troops with supplies, keeping the cost to attend camp low. Each site had a propane refrigerator. Manufacture of these had stopped by that time, so the camp scavenged units from housing undergoing upgrades.
He was on staff the year the old Health Lodge burned down.The old health lodge was near the Council Ring. After it burned, an executive at Norton Company, named Benedict, led the fundraising for a replacement building.
During and following that meeting, Mr. Goff provided most of the content of our page on Neckerchiefs at Camp.
Page updated 10/26/20
J. Froimson