Robert Shaw Jr.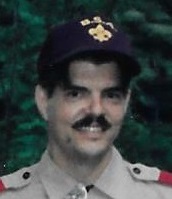 Robert Shaw Jr. at Treasure Valley for summer camp (1998).
Robert M. Shaw Jr. served as Committee Member of Troop 54 from 2006 until his retirement from the Committee on March 3, 2021. During his time on the Committee, Mr. Shaw served for many years as Training Chair. Prior to that, he was an Assistant Scoutmaster from at least July 1997 1.
His sons, Robert Shaw III and Spencer Shaw, were youth members of Troop 54, attaining the rank of Eagle Scout in September 2002 and August 2004, respectively.
In addition to serving with Troop 54, Mr. Shaw was a Unit Commissioner in the Quinsigamond District for several years.
Mr. Shaw has been awarded a number of Scouting awards, including:
Arrowhead Award (Quinsigamond District, 2004)
District Award of Merit (Quinsigamond District, 2005)
Silver Beaver (Mohegan Council, 2008)
Professionally, Mr. Shaw is an architect.
1 Source: September 1997 issue of The Torch, in which Mr. Shaw was listed as participating as a leader at summer camp in July 1997.
Page updated 8/23/21
J. Froimson