Frederic Mills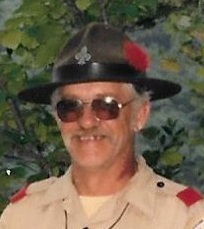 Frederic Mills at Treasure Valley for summer camp (1986).
Frederic J. Mills was an Assistant Scoutmaster in Troop 54 from 1984 to 1990.
From comments in the February 1990 edition of The Torch:
In the 1940's as a boy he was a member of Troop 54. He started numerous soy Scout Troops. Before coming back to Troop 54 he was ASM of Tr.155. He took part in the organization of the NIMAT DISTRICT. He has been District Comm., Activities Comm, Chairman;a member of the ORDER OF THE ARROW,received the DISTRICT STATUETTE; DISTRICT AWARD 0F MERIT;Training Award; Scouter's Key and the WOODBADGE AWARD. Mr.Mills has been active in L.L.Baseba11 Easter Seal Swim Meets,Softball Umpire,YMCA Basketball Youth Counci1;Coach,0fficial. His Wife MRS.LEONA MILLS was a Merit Badge Counselor.He has four children,2 boys,1 STAR SCOUT,1 son JON D. MILLS became an EAGLE SCOUT in Tr.155,and is presently an Asst.Scout— master in Troop 54. Fred is a retired employee with Mass.Dept.of Mental Health,he is employed as a security guard in Altoona, Penna.where he and his family now reside.
| | |
| --- | --- |
| Page updated 1/2/17. | |