William McCarthy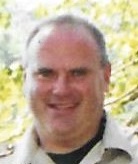 William McCarthy at Treasure Valley for summer camp (2005).
William J. McCarthy. served as Troop 54 Scoutmaster from January 2005 to August 2007.
After leaving Troop 54, Dr. McCarthy was a leader in Troop 20 for a few years until it failed to recharter.
His sons, William J. McCarthy II and James E. McCarthy were youth members in Troop 54.
Dr. McCarthy received the Whitney M. Young Service Award in 2013.
Professionally, Dr. McCarthy is a criminal justice professor at Quinsigamond Community College. For more detail, see his bio published in the Telegram.
| | |
| --- | --- |
| Page updated 1/27/17. | |