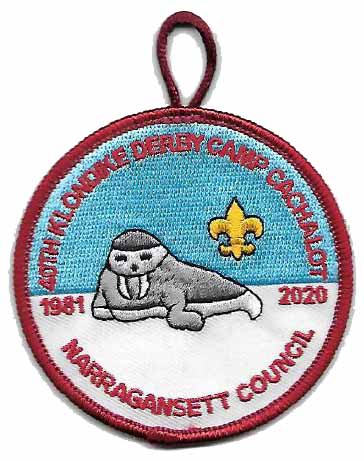 Troop 54 returned to Cachalot Scout Reservation in Myles Standish State Forest to participate in the Klondike Derby at Cachalot, a Narraganset Council event. This was our first visit to this camp since November 2018, and it was our first time participating in this event.
We had three Scouts and two leaders participating for the campout and another Scout, leader and parent during the day for the Klondike event. Only one other unit tent camped the first night, and we were the sole tent campers the second night.
Our camp site was the top of Cub Hill. It had a nice view over the lake that we didn't get to see until Sunday (arriving at night and being away all day at the event on Saturday). The site lacked a fire pit, but is was not too far from the parking lot. The nearest water was available at a frost-free valve next to he 21 Club cabin, a bit of a hike.
This 40th Annual Klondike Derby continued a tradition of a well-run, major event. There were around 40 sleds competing with hundreds of Scouts. Each troop provided two leaders to help run a station. We worked at Fire Dousing and saw many repeat attendees working to better their results from previous years.
It was a bit of a challenge for a sled to make it through all stations during the day. At the end, a sled race was held on Tom Cullen Field with about one third of the sleds racing in each of the initial heats. Our Pig Patrol came in second place in its heat, which didn't get us to the final race.
The weather was seasonably cold, about 12°F when we woke up on Saturday and warmer on Sunday. Unfortunately, there was no snow on the ground during the event. We got about an inch of snow Saturday evening, followed by rain Sunday morning, so our gear was pretty wet coming back.
Lunch on the trail for the sled was also a station, which required cooking in a #10 can. For that, the Pig Patrol kept it simple, heating canned beef stew. Both the patrol and the leaders made chili for dinner on Saturday, which was great for a warm-up during the snow.
This was our one hundred thirty-third consecutive month with at least one overnight camping trip.