Cost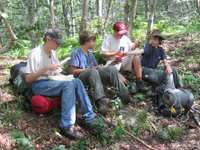 Troop 54 Scouts take a break on the trail in the Green Mountains (August 2010).
The initial registration fee for new Scouts is based on the month joining.
Troop dues are $161/year and payable by November 1 for the Scout to be registered for the following year:
See our Dues & Uniform Purchase document for details.
You can pay dues in person (cash, check, credit card or Android Pay accepted) or online via the link above.
You will need to purchase uniform items and a handbook.
Other costs depend on which activities you participate in. Typical costs:
Registration Fees - Most events have a registration fee, usually including the food cost. These vary but are typically around $20-25.
Camping Gear - You will need to get camping gear. Exactly what you need depends on what camping trips you are participating in. The troop has some tents, stoves and cookware, so new Scouts only need to worry about personal gear.
Merit Badges - Completing a merit badge generally involves purchasing a merit badge booklet. Some merit badges call for purchasing materials to make something.
Summer Camp - If you attend this, a week at an overnight summer camp will likely be your largest single Scouting expense. Compared to the cost of other camps, Scouts BSA camp is a great value.
Page updated 9/1/20
J. Froimson