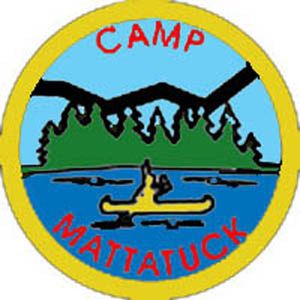 Troop 54 traveled about two hours to Camp Mattatuck in Plymouth, Connecticut, our first time camping there. We had three Scouts and three leaders participating on this trip.
Temperatures on this trip ranged from the low 30's to the high 50s. It rained most of Saturday.
During this time of year, the tenting sites used for summer camp were not available. Our site was a spot on the Camporee Field adjacent to the Pine Grove. Our site had a fire ring, although with everything being wet from the rain, we didn't try to get a fire going. A latrine was less than 100 yards away, and a water well faucet was not much further. Two other troops and a Cub Scout pack were also at the camp. Those other units were in cabins; one troop also used the Activity Pavilion.
Just in time for this trip, the Troop upgraded to a better stove top oven, one with a thermometer that folds. The Scouts made use of this for most of their meals. They baked BBQ chicken wings for one meal and chicken patties to make sandwiches for another meal. For one breakfast, they baked a quiche in the oven.
On Saturday, we went on a 2.7 mile hike through the camp. The waterfront seemed pretty good; its unique feature was a water slide down a hillside, into the pond. The troop sites were typical for a Scout camp, each comprised of tent platforms, a fire pit, a latrine and a bulletin board. Most sites did not have a hard shelter, although the summer camp may provide soft shelters. We didn't make a point of visiting the program areas, but we did hike around Lake Kenosha (the camp pond, aka. Tomlinson Pond) and over a floating bridge onto one of its islands. View our actual trail as recorded by Mr. MacNeal:
My Maps - map uploaded into Google My Maps
GPX file (for downloading)
In camp, we did some advancement work.
This was our 168th consecutive month with at least one overnight camping trip (14 years).