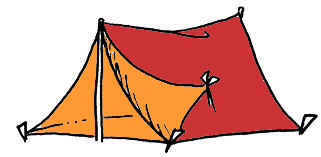 This was our first trip (at least in recent years) to the campground formerly known as Sterling Springs, in Sterling, Massachusetts. This is a quiet, privately owned campground. We had six Scouts, 2 Cub Scouts and six adults participating on this trip.
The last of the snow had just finished melting from the ground during the previous week. We finally lucked out with the weather. There was no snow or rain falling on us during the trip, and the low temperature was in the 40s. It was very windy on Friday night, but we skipped putting up the pop-up canopies, so there was no damage.
Troop 189 Sterling and Troop 1 Lancaster also camped in the campground that weekend , and a Cub Scout pack visited during the day. Troop 189 resurrected the campground for its current owner, and one of their leaders manages the campground.
During the trip, our Scouts worked on first aid skills for a rank requirement. Some of the Scouts made use of an ax yard to complete their Totin' Chip requirements. We also did a bit of service for the camp, clearing fallen branches from many of the sites in the campground.
A neighbor of the campground was running his sawmill on the property and demonstrated the equipment for the Troop. This computerized portable sawmill was fascinating. We saw a thick piece of tree trunk turned into 1x8 boards in just a few minutes.
While at Sterling Springs, we used the pavilion there to host a court of honor together with Troop 7054. Most of Troop 7054 and their families were able to come out. Except for our last community cleanup, this was the first time we had a chance to gather the two troops together since the pandemic started.
This was our one hundred forty seventh consecutive month with at least one overnight camping trip.