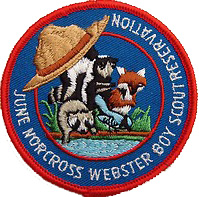 This was our first trip to J. N. Webster Scout Reservation. The camp site was across a small pond from a central area that included the dining hall and campmaster cabin. While the dam along the side of the pond created a short and direct path between the two, vehicles had a longer drive through the woods. Frost-free valves in a few key locations made getting water pretty easy. The three youth and two adult Troop 54 participants constituted our smallest overnight contingent yet, caused by several homework and other conflicts.
The New England Air Museum was great, with several thoroughly restored aircraft in three large display halls. Other unrestored aircraft were on display outdoors while awaiting their turn. Two areas that struck our Scouts' interest the most were the Microsoft Flight Simulator stations and the larger Flight Sim Spot. The latter included three large displays per computer with aircraft style controls, including pedals and throttles.
Back at camp, the food was looking pretty gourmet. The adult dinner (by ASM MacNeal) featured a chicken chili, while the youth dinner was a cheeseburger pasta.
This was our 48th consecutive month with at least one overnight camping trip.